Caramel Vanilla Bean Hazelnut Milk
Caramel Vanilla Bean Hazelnut Milk
Written By Bronson Chiropractic Clinic on February 5, 2020
---
Coffee Shop Worthy Caramel Vanilla Bean Hazelnut MilkVegan, gluten-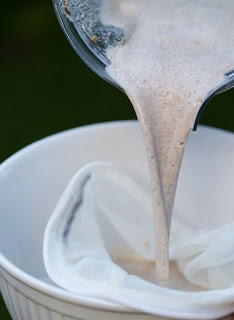 free, grain-free, no bake/raw, oil-free, refined sugar-free, soy-free
I personally tried this recipe twice and it is worth making. I used this in my coffee and my oatmeal...delicious!
Decadent, luxurious, and totally splurge-worthy, this homemade hazelnut milk is fit for a high end coffee shop and it pairs perfectly in a cup of coffee or black tea. I use a mix of soaked hazelnuts and almonds, but feel free to use all hazelnuts if you prefer. It's lightly flavored with notes of caramel (from Medjool dates), cinnamon, and a whole vanilla bean and I imagine you could turn it into chocolate hazelnut milk quite easily by adding a bit of Dutch-processed cocoa powder. This recipe is lightly adapted from my Homemade Almond Milk recipe.

Yield
3-3 1/2 cups
Soak time: Overnight or 2-8 hours
Prep Time: 10 Minutes
Cook time: 0 Minutes
Ingredients:
3/4 cup raw hazelnuts
1/4 cup raw almonds
3 1/2 cups water
2 1/2-3 pitted Medjool dates, to taste
1 vanilla bean, roughly chopped
1/2 teaspoon cinnamon
Tiny pinch of fine grain sea salt (optional

Instructions:

Place hazelnuts and almonds in a bowl and cover with water. It's preferred to soak them overnight (for 8-12 hours) in the water, but you can get away with soaking for 1-2 hours in a pinch.

Rinse and drain the soaked hazelnuts and almonds. Place nuts into a blender along with water, pitted dates, vanilla bean, cinnamon, and salt (if using).
Cover and blend on highest speed for 1 minute or so.
Place a nut milk bag (here is the bag I love) over a large bowl and slowly pour the milk mixture into the bag. Gently squeeze the bottom of the bag to release the milk. This process can take 3-5 minutes, so be patient. You should be left with about 1 cup of pulp in the bag. See my tips below on using the leftover pulp.
Rinse out blender and pour the milk back in. Now, pour it easily into a Mason jar and secure with lid. Chill in the fridge. It will stay fresh for 2-3 days. Give the jar a good shake before enjoying. Drink it alone, use it in cereal or smoothies, make hot oatmeal, and one of my favorites - use as a creamer in coffee or black tea.
Recipe from ohsheglows.com

Posted In: Healthy Recipes