Keto Mexican Cauliflower Rice
Keto Mexican Cauliflower Rice
Written By Bronson Chiropractic Clinic on February 5, 2020
---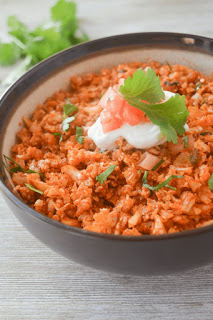 Ingredients:
4 cups fresh riced cauliflower (about 1 medium head)
2 tablespoons coconut oil
2 tablespoons tomato paste
1/4 cup onion, chopped
1 small jalapeno, chopped
1 clove garlic, minced
1/2 cup chicken broth
1 teaspoon chili powder
Salt & pepper, to taste
1/4 cup cilantro, chopped
Diced tomato, optional
Sour cream, optional
Instructions:
Remove core and leaves from cauliflower. Cut into florets and pulse in food processor or use grater. Set aside. (Short cut - I used frozen grated cauliflower I found at Costco)
In skillet, over medium heat, add coconut oil and tomato paste. As coconut oil melts, gently mix with tomato paste.
Add onion and jalapeno to pan. Cook until the mixture begins to soften, about 3-5 minutes.
Add garlic to pan and sir for 30 seconds, then pour in chicken broth.
Add riced cauliflower to pan. Sprinkle salt and chili powder over cauliflower and gently fold into broth until coated and red.
Continue cooking cauliflower until most moisture in the pan has evaporated and cauliflower is tender, about 10-15 minutes.
Turn off heat and fold in cilantro. Serve with diced tomatoes, sour cream, and additional cilantro, if desired.
Dr. Mark and Dr. Ross recommend eating more vegetables for a healthier lifestyle.

This recipe comes from blogger Hey Keto Mama

Posted In: Healthy Recipes