Lobster Tail Salad with Watermelon and Arugula
Lobster Tail Salad with Watermelon and Arugula
Written By Bronson Chiropractic Clinic on February 5, 2020
---
Ingredients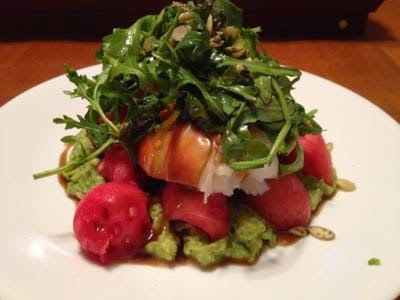 2 avocados
1 teaspoon lemon juice
1/2 small seedless watermelon
2 8 ounce lobster tails
1 cup arugula
2 tablespoons pumpkin seeds
Salt and freshly ground black pepper
1/2 cup water
1/4 cup extra virgin olive oil
1 tablespoon balsamic vinegar
1/2 teaspoon vanilla extract
2 teaspoons honey
1 teaspoon Dijon mustard
1/4 teaspoon sea salt
Pinch of dried red Chile flakes

Directions
To prepare honey vanilla vinaigrette: In a medium bowl, whisk together olive oil, vinegar, vanilla extract, honey, mustard, salt and Chile flakes.
To prepare lobster salad: If lobster tails are frozen, thaw in refrigerator.
Bring 4 cups of salted water, or enough to submerge lobster tails, to a boil in a medium pot. Add lobster tails and simmer uncovered for 8-12 minutes or until shells turn bright red and meat is tender when poked with fork.
De-pit, peel, and mash avocados with lemon juice in a small bowl.
Season with salt and pepper, to taste.Ball watermelon with mini melon baller.
Toss arugula with vinaigrette.
Spread avocado mash onto plate, scatter melon balls on top of avocado mash, place lobster on top of melon balls, then a handful of arugula.
Sprinkle pumpkin seeds and drizzle vinaigrette.

Posted In: Healthy Recipes