Oatmeal Pancakes with Mixed Berry Sauce
Oatmeal Pancakes with Mixed Berry Sauce
Written By Bronson Chiropractic Clinic on February 5, 2020
---
Ingredients: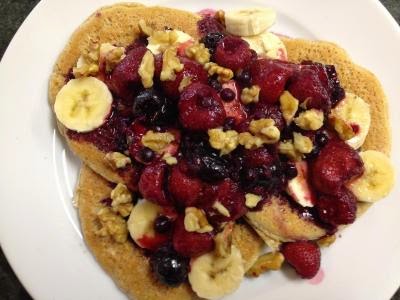 1/2 cup cottage cheese
1 cup oats
4 egg yolks plus 6 egg whites
Cinnamon
Honey
Coconut oil for greasing pan
For the topping get creative with fruit, nuts, honey and or yogurt. I used frozen berries warmed in a sauce pan.
Directions
Put the oats in a food processor and grind until powdery. Add in the cottage cheese, 4 egg yolks, cinnamon and some honey. Mix thoroughly with food processor and transfer to a mixing bowl.

Beat the egg whites with a mixer until they form stiff peaks. Fold into the oats mixture. Heat a nonstick pan, or a griddle add some coconut oil. When the pan is hot pour batter using a ladle onto the hot surface.
I didn't need to make it round because as the batter fell it formed a circle.
When you see bubbles forming up from all sides of the circle you can turn it over to cook from the other side. Check them out so that they don't burn. This will take around one minute.

Serve with warmed berries and top with your choice of toppings such as walnuts, pecans, a dollop of yogurt, sliced bananas, honey or whatever you like. Enjoy!

Posted In: Healthy Recipes