Sweet Potato Quinoa Cakes with Mixed Berry Salsa
Sweet Potato Quinoa Cakes with Mixed Berry Salsa
Written By Bronson Chiropractic Clinic on February 4, 2020
---
I love quinoa and sweet potatoes, and this has become my favorite way to combine the two.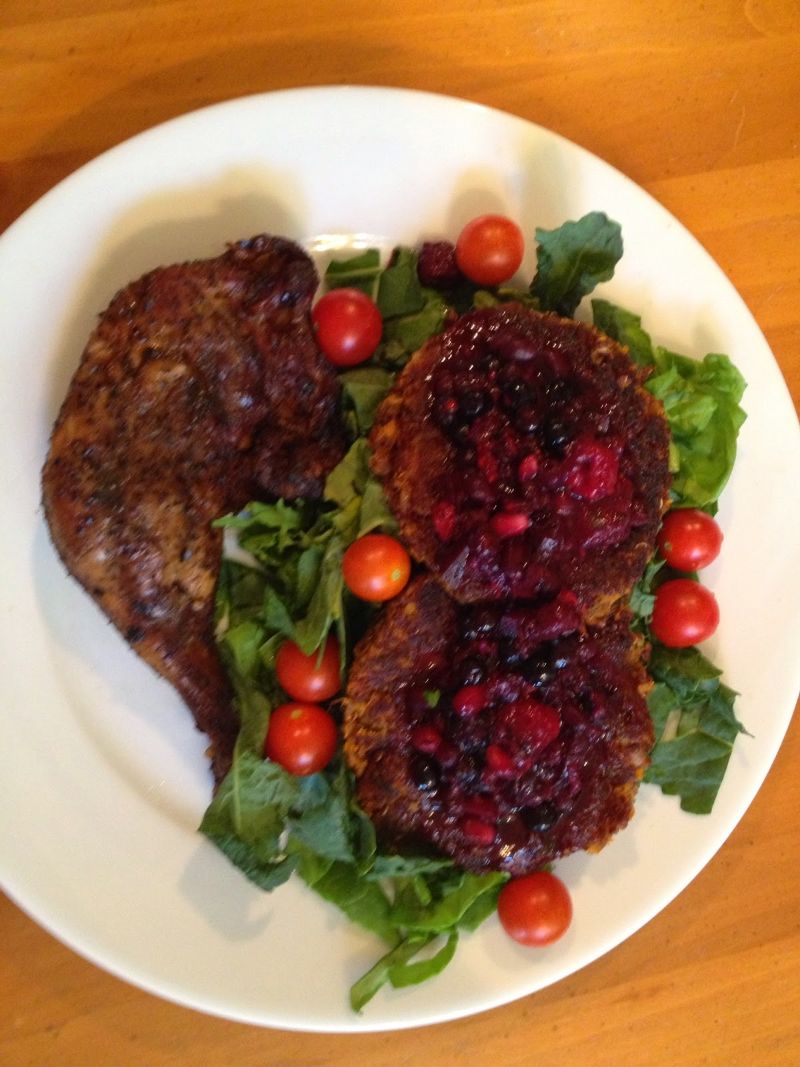 This meal is loaded with lots of healthy ingredients and tons of flavor. Shown here with smoked chicken and homegrown cherry tomatoes
1 medium sweet potato (about 6 ounces), oven-roasted, cooled and peeled
1/2 red onion, diced
1/2 teaspoon salt
1/2 teaspoon pepper
2 garlic cloves, minced
1 cup cooked quinoa (pronounced keenwa)
1/4 cup gluten free flour (I use almond meal or garbanzo bean flour)
2 tablespoons each chopped fresh basil and chopped fresh mint
1 tablespoon coconut oil (can substitute olive oil)
In a large bowl, mash the roasted sweet potato with the tines of a fork. Add red onion, salt, pepper, garlic, quinoa, flour and herbs. Stir to combine. Form four equally sized patties. Heat a non-stick skillet over medium heat and add coconut oil. Add cakes and cook for 3 to 4 minutes per side or until golden brown. Layer over fresh chopped spinach and baby kale mixture, drizzle with mixed berry salsa.
Mixed Berry Salsa
2 cups of fresh or frozen mixed berries (I use a frozen mix of strawberries, blue berries, raspberries, cherries and pomegranate)
1/2 red onion
1/4 cup chopped cilantro
1/4 cup fresh basil and or mint
Juice of 1 lime
Salt and pepper to taste
Heat the frozen berries in a sauce pan. Remove from heat, add the next 5 ingredients and mix. Pour over patties and enjoy.

Posted In: Healthy Recipes