Turmeric Smoothie
Turmeric Smoothie
Written By Bronson Chiropractic Clinic on February 5, 2020
---
Ingredients: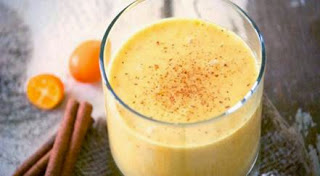 1 cup hemp or coconut milk
Almond milk works too
1/2 cup frozen pineapple or mango chunks
1 fresh banana
1 tablespoon coconut oil
1/2 teaspoon turmeric (can be increased to 1 tsp)
1/2 teaspoon cinnamon
1/2 teaspoon ginger
1 teaspoon chia seeds
1 teaspoon maca (optional)
Add all ingredients into a blender and process until smooth. Try to drink this smoothie in the morning before you have anything to eat. It's a solid way to start your day and pack your body full of antioxidants

Thank you to my friend Kendra for sharing this fabulous recipe. This is one of my favorites and it's a great fall smoothie.

Enjoy!

Posted In: Healthy Recipes